Easy-care, transparent and comfortable
A shower enclosure is probably one of the most stressed items in your bathroom. Easy-care, transparent and comfortable does not have to be a contradiction in terms, but a basic requirement for a modern shower cubicle. Take advantage of our experience on the subject. Discuss your shower situation and wishes with us, we will come to your house if you wish and advise you on site, take measurements and have the partition made to measure for you. The installation is done by our own assembly team. This is how you get a shower enclosure that is specially tailored to your needs.
One of our premium manufacturers of shower cubicles is Sprinz, which we would like to introduce here.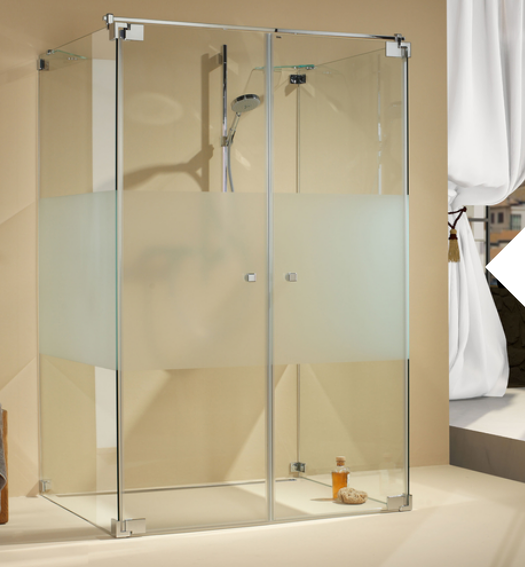 Sprinz
The traditional and still owner-managed family business, which is over 130 years old, is based in Grünkraut near Ravensburg. Today the company has almost 400 employees and is a leader in the field of shower screen manufacturing.
It doesn't matter whether you prefer frameless all-glass shower walls or shower cubicles with a frame. Sprinz has the right solution for almost every application. Everything is made individually and precisely according to measurements. Special training courses offered by the company always bring our fitters up to date in order to ensure the highest standard of installation and customer service.
We show various shower cubicles in our bathroom exhibition in realistic applications, including the series OMEGA, TANSA, ACHAT, INLOOP, FORTUNA, XXL ..........
Description of each series:
Sprint Omega
Omega - the walk-in shower made of safety glass
Elegant design, quality and function – the frameless Omega shower effortlessly combines the most varied of wishes. The toughened safety glass is carried by the filigree fittings almost as if it were floating. As a walk-in shower, which can also be installed without a shower tray, it makes the bathroom appear even more spacious.

For easy cleaning and care, the fittings and handles are integrated flush into the glass. The fitting raises and lowers the shower door when opening and closing. This means that the glass door can be operated easily and does not allow the shower water to run out when it is closed. The door swings both inwards and outwards. Exactly how you need it.
Model overview
The Omega walk-in shower is available in the following models. It doesn't matter whether you like a square or pentagonal shower, whether you prefer a quarter-circle shower, or whether your bathroom has a niche or a bathtub – all of these wishes can be fulfilled with Omega!
omega
The advantages of the Omega Sprinz shower enclosure at a glance.
High-quality 8 mm thick toughened safety glass
Raise and lower pendulum fitting for easy opening inwards and outwards
Easy to clean thanks to the fittings that are flush on the inside and the handle that is flush on the inside
Increased splash water protection
Continuous, vertical seal in the hinge area (glass/wall) ensures optimal splash protection
Special heights, special surfaces and special glasses possible
Numerous model variants available
Surface treatment SpriClean® included
Standard bevels possible at no extra charge
Optionally available with wall profiles (adjustment range of approx. +/- 13 mm) or with wall brackets
Optionally with direct wall mounting
Many handle variants available at no extra charge
Details of the Omega fittings and handles.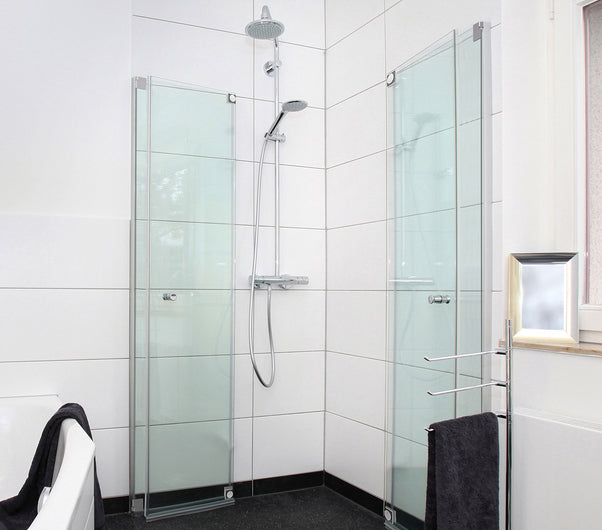 Omega Plus – The walk-in shower with folding doors on both sides
The Omega Plus glass shower was developed for particularly small bathrooms and even greater ease of entry. The two-leaf shower door can be folded towards the wall on both sides. Once inside and once outside. This enables an extra wide entrance, which is particularly suitable for barrier-free showers.

Thanks to the folding technique, the shower element and the hinges can also be easily cleaned from all sides. In addition, the fittings are embedded flush into the glass on the inside. A wipe is enough and the glass shower is dry again. For optimal splash protection, the fitting raises and lowers the shower door when opening and closing. The Omega Plus is therefore the perfect shower enclosure for luxury bathrooms and for wheelchair-accessible showering pleasure. Other handle variants are available for individual requests at no extra charge.
Model overview
The shower variant Omega Plus comes in several models. Regardless of whether a square shower fits into your bathroom, a niche solution is planned or you prefer a bathtub solution.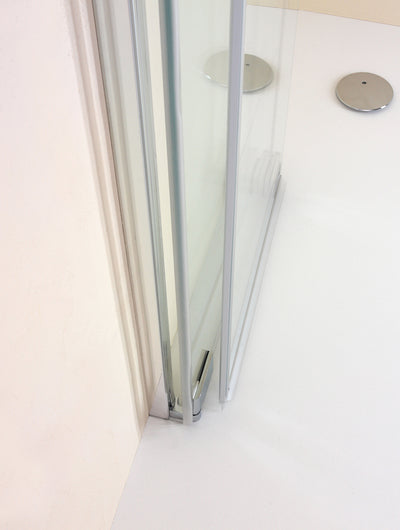 The advantages of the Omega Plus at a glance.
Glass-glass situation: high-quality 6 mm thick single-pane safety glass in the doors and 8 mm thick toughened safety glass in the side parts
Glass-wall situation: high-quality 8 mm thick toughened safety glass in the doors and side panels
Increased splash water protection
Flush fittings on the inside
Raise and lower pendulum fitting on the wall side
System attachment for stable wall attachment
Can be folded inwards and outwards on the wall side: space-saving and easy to clean
Excellent for barrier-free living
Special glasses possible
Also possible as a custom-made product
Another handle version available at no extra charge
Details of the Omega Plus fittings
Shower XXL – The foldable shower wall for the shower or as a bath attachment
The frameless shower XXL from SPRINZ makes room for great showering fun on up to 1200 x 1200 mm. The shower door opens wide and folds up to save a lot of space - ideal as a barrier-free shower, perfect for showering fun for two or really big for a family bathroom or a wheelchair-accessible bathroom.

As a shower wall for the bathtub in the large format of 1300 x 1500 mm, XXL protects against unnecessary flooding. After showering, fold away the splash guard to save space.
Model overview
Thanks to the possibility of connecting the XXL shower element with fixed side parts or wall design elements, this model is available in a wide variety of variants - whether as a shower with a square, pentagonal or quadrant floor plan, as a niche solution or as a bathtub attachment for high splash protection.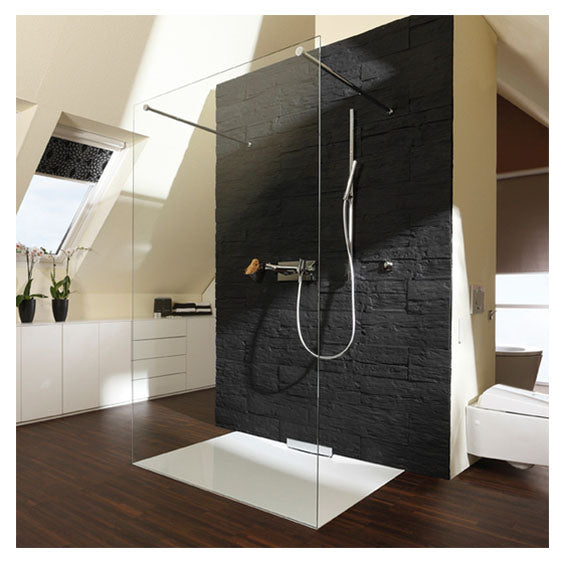 The advantages of the XXL at a glance.
Glass thickness of the doors 6 mm and side panels 8 mm
Ideal as a bath screen
Also suitable for barrier-free bathrooms
Profiles and fittings optionally available in special surfaces
Special glasses possible
Also possible as a custom-made product
Many handle variants available at no extra charge
INLOOP
Contact
address
Osdorfer Landstrasse 20
22607 Hamburg
opening hours
Monday to Friday - 10:00 a.m. to 6:00 p.m
Saturdays - 10:00 a.m. to 2:00 p.m